1. Ideation Campaign
Submission closed 16 April 2021
"How might we develop & exploit low processing technologies to produce healthier, more nutritious and more sustainable food?"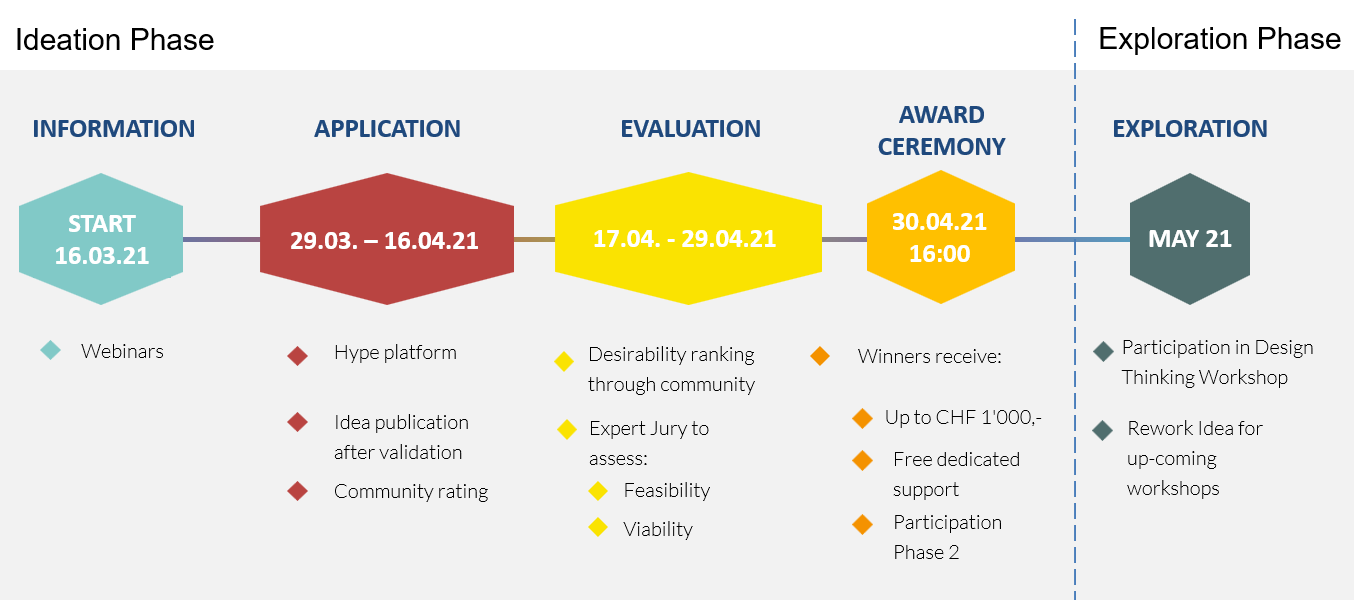 All ideas will be rated on:
Potential of innovation
Degree of novelty – to Switzerland / to the world
Desirability, viability and feasibility
Economic impact
Sustainability
Scale-up / follow-up potential
The ideation campaign is open to anyone, who…
Is prepared to share his/her idea with a community
and embrace the open innovation approach to find
radical solutions
Applications are screened by the Suisse Agro Food
Leadinghouse prior to publication on the HYPE platform and made visible to the community
Participation is free of charge!
We are looking for ideas in the vertical of bioeconomy.
Processing technologies are highly developed and there are lots of products available, requiring sophisticated processing steps. The question that arises:
Could we do things simpler?
Could we apply technologies & methods that work also with complex matrices and do not require highly refined ingredients?
That would lower the effort along the entire chain, safe energy & costs, and may provide more healthy, more nutritious, and sustainable food.
Buzzwords are: NOVA classifications, YUKA & SIGA Apps., fermentation, alternative proteins, whole crop, fungi
Top 3 ideas rated by community CHF 500.-
and 3h of dedicated support
Top 5 ideas assessed by the jury CHF 1'000.-
and 3h of dedicated support
Participation voucher to the first Exploration Workshop!
Paul Niederhäuser
Board Member
Never miss an information. Subscribe to our newsletter!